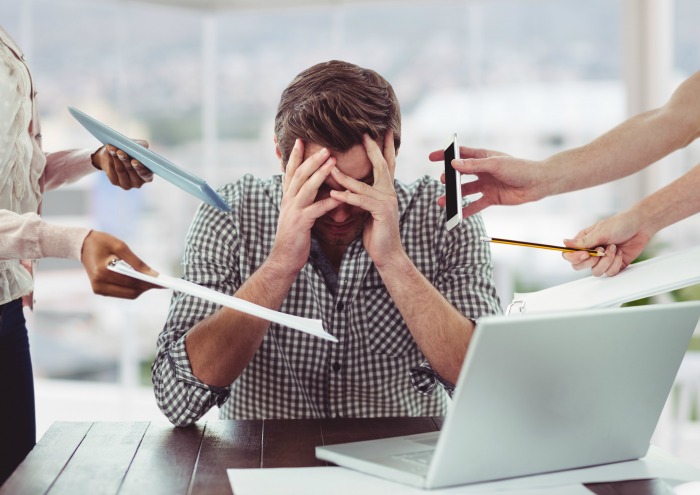 Ambitieuze mannen met veelbelovende carrières voor zich. En plotseling volledig opgebrand, burn-out! Uiteindelijk blijkt hun ineenstorting een zegen: 'Ik weet nu dat de Raad van Bestuur wel een dag kan wachten.' Een verhaal van Bastiaan, een makkelijke prater, hoogopgeleid, intelligent, ambitieus en levensgenieter. Burn-out? Dat kwam tot voor kort niet in zijn woordenboek voor. Dat is voor zwakken! Maar hoe kom je eraan en belangrijker nog hoe kom je er weer vanaf.
Bastiaan (33) een jonge ambitieuze key-accountmanager Europe die werkzaam is bij een grote consultancymaatschappij, oogt nu ontspannen. Echter vorig jaar was dat wel anders. Terugkijkend op die periode schetst hij het beeld van een haantje dat zowel zakelijk als privé niets wilde missen en altijd wilde pieken. Op kantoor leidde hij uitdagende projecten; hij rapporteerde zelfs direct aan de directie. Tijdens een vergadering voelde Bastiaan plotseling de vloer onder zich weg­zakken. Hij weet zijn duizeling aan vermoeidheid van het zoveelste feestje.
Dat hij langzaam onder de werkdruk bezweek, kwam niet in hem op. Dat zou betekenen dat hij faalde, zegt hij. 'En falen, dat nooit, vond ik destijds. Niet op mijn werk, niet ten opzichte van mijn vrienden en niet ten opzichte van mensen van wie ik houd.' Even bijslapen en de volgende dag weer door alsof er niets gebeurd was, dacht hij dan ook. Hij kon toch altijd alles aan. Een burn-out? Hij niet!
Maar er bleek meer aan de hand. Het gevoel flauw te vallen bleef maar terugkomen, wekenlang. Bastiaan: 's Nachts voelde ik mijn hart als een bezetene kloppen, maar ik zat aan het begin van mijn loopbaan en ging niet zeggen dat ik het nu al niet aankon. Als mijn vrienden het voor elkaar kregen om een mooie carrière en een riant salaris te hebben, dan kon ik dat zeker. Dus hield ik mijn mond. Hij hield het nog een paar weken vol, tot hij echt niet meer op zijn eigen benen kon vertrouwen en open kaart moest spelen tegenover zijn familie, vrienden en werkgever.
De aap op de rots
Het verhaal van Bastiaan staat niet op zichzelf. Voor veel mannen is het not done om toe te geven dat ze in de bloei van hun carrière te veel hooi op de vork hebben genomen. Zelfs als hun gezondheid op het spel staat.
Nienke Wijnants, psychologe en auteur van onder andere het dertigersdilemma, deed onderzoek naar de loopbaan- en levensvragen van hoogopgeleide dertigers en vindt de verhalen van opgebrande jonge mannen zeer herkenbaar. De breed heersende overtuiging dat alles mogelijk is als je maar je best doet, speelt volgens haar een belangrijke rol. 'Als iets dan niet lukt, kan de frustratie zich uiten in geestelijke of lichamelijke klachten', aldus Wijnants. 'En aan dergelijke klachten toegeven is vooral voor mannen lastig. Een burn-out wordt toch nog steeds als een vrouwending gezien, met name omdat het niet alleen om een fysiek, maar vooral ook psychisch fenomeen gaat. Veel mannen zien zichzelf het liefst als harde werker, als de traditionele kostwinner en stevige rots in de branding.' En daar zit hem de kneep. Vaak ligt niet zozeer het harde werken ten grondslag aan een burn-out, maar het feit dat iemand werkt op een manier die niet bij hem past.
Doorknallen, niets voelen
Gevoelens volledig negeren heeft veel consequenties, leiden op den duur tot mentale en fysieke klachten. Niet gevoelde gevoelens creëren compensatiegedrag. Zo ook bij Bastiaan, veel werken, doorzetten en de lichaamssignalen negeren. Juist dit gebeurd met regelmaat bij mijn klanten. Vaak genoeg hoor ik mijn klanten teruggeven: "Ik voel niets, dus er is niets aan de hand". Niets voelen zorgt voor het negeren van het probleem. Deadlines en doorknallen, het zijn dan ook de 'bikkels' die onderuitgaan.
Bastiaan heeft een uniek coachtraject doorlopen, met de inzet van paarden. Hij is stil gaan staan bij zichzelf, wie ben ik, mijn gevoel, waarden etc. Paarden werken als een katalysator. Ze zorgden voor verbinding van zijn ratio met zijn gevoel ,waardoor hij snel inzicht kreeg in zijn gedrag en gevoelens. 'Het begint met beseffen van: wie ben ik en hoe maak ik verbinding? Toen ik bij het paard in de bak stapte, liep hij direct van me weg. Ik kreeg op geen mogelijkheid contact met hem, wat ik ook probeerde'.
Soms is het moeilijk om in contact met een ander echt bij jezelf te blijven. Je merkt dat je tijdens een gesprek energie verliest of dat je niet goed meer weet wat voor jou belangrijk is. Je zegt weer ja tegen een opdracht, terwijl je agenda al zo vol zit. Om je bewust te blijven van je grenzen in contact met anderen kan je mindfulness inzetten, bijvoorbeeld de drie minuten adempauze. Deze oefening heeft Bastiaan bij de paarden uitgevoerd, de focus van zijn aandacht werd verlegd naar zichzelf waardoor het paard uit zichzelf naar hem toe kwam lopen. It's so simpel!?
Drie minuten Adempauze
De drie minuten adempauze is een korte meditatie, waarbij je in drie stappen kijkt naar wat er is. Met deze makkelijk toepasbare oefening creëer je een moment om te kijken naar wat er in het hier en nu is. Je kan je ogen sluiten of je blik richten op een vast punt.
Bewustzijn: Breng jezelf in het huidige moment door te zitten of staan in een rechte houding. Sluit de ogen en merk op wat er is. Je bent opmerkzaam van de gedachten, emoties en lichamelijke sensaties.
Aandacht voor de ademhaling: Ga met de aandacht naar de adem. Je volg de adem daar waar je die goed kunt opmerken, bij de buik of ribbenkast, neus of mond. Je hoeft de adem niet te veranderen, slechts te volgen. Als je afdwaalt in gedachten, breng je mild en vriendelijk de aandacht naar de adem en bent je weer bewust van het hier en nu.
Uitbreiding: Breid de aandacht voor de adem uit naar het gehele lichaam. Je voelt hoe je zit of staat, je houding, contact van het lichaam met de ondergrond, de sensaties in het gehele lichaam.
De maatschappij mag dan een grote rol spelen bij zowel het taboe als het ontstaan van een burn-out, maar Bastiaan ziet inmiddels in dat het draait om zelf andere keuzes maken. Niet doorlopend meedoen aan de ratrace en vaker luisteren naar zichzelf. Realistischer doelen stellen en zich niet altijd spiegelen aan anderen. En de paarden, die heeft hij als metafoor op als screensaver op zijn Iphone7.
Herken je je hierin of wil je dit voorkomen? Wil jij jouw talent inzetten zonder door te knallen en in energielekken te vallen? Neem gerust contact met ons op contact@2b-unique.nl of of kijk voor meer informatie op www.2b-unique.nl..
Aanstaande 19 mei is de Masterclass Persoonlijk Leiderschap. Er zijn enkele plaatsen beschikbaar! Wees er snel bij als jij met jouw persoonlijk leiderschap aan de slag wilt!